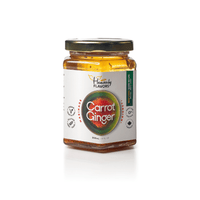 Carrot Ginger Vinaigrette (55mL & 255mL)
- 255mL
$7.99 USD
Hear how Kali, uses Heavenly Hot Sauce daily.
FOOD CONNECTS PEOPLE AND TRANSCENDS LANGUAGE.

Heavenly Flavors is 100% owned & female-founded. Our mission is a platform for opportunity, equality & diversity for immigrant men & women whose ethics and values are unparalleled and admirable. Immersion in three rich cultures influenced the founder's passion to harmonize food, culture, and people into a business for good.



Heavenly Flavors connects people beyond food. At the heart, our business creates opportunity, equality, stability and hope for women and minorities. At the time of writing, our companies catalyzed positive change in over 30 female lives. The positive ripple effect has directly affected their spouses, families, our communities and beyond.

Our impact continues...

Heavenly Flavors' reach can and will exceed our grasp. Already 2 million+ customers have invited us into their kitchens and have taken our meals and sauces to work. If you're reading this page, you're likely already an integral part of our Cycle of Giving.

A portion of every purchase of Heavenly Flavors goes to providing quality education, ending hunger and creating gender equality for females worldwide. Heavenly Flavors matches each contribution thereby doubling our efforts for good. The Cycle of Giving and ripple continues in the daily lives of those we've collectively impacted.
Elevating your Tastebuds Since 1980
Over 2+ million happy customers
Handmade In Alberta, Canada ~ Est. 1980
Convienently Delivered To Your Doorstep